In Delaware, elections are so small that a few thousand dollars—or a few dozen voters—can tip the scale between victory and defeat. Campaign donations in the millions of dollars are unheard of, which is downright adorable compared to the nearby city of Philadelphia, where PAC spending alone topped $10 million in the 2015 mayoral election.
For this election cycle, the Delaware Department of Elections' campaign finance reporting database shows just 20 individual contributions of more than $20,000, nearly half of which are loans by candidates to their own campaigns. There are just a handful of contributions topping $40,000—and the family behind a chain of locally-owned Shoprite grocery stores has made three of them.
The Kenny family has spent $495,000 in state elections since 2019, fueling speculation that Chris Kenny, heir to the family's business empire, is catering to state Republicans in anticipation of running for public office. According to campaign finance documents filed with the Department of Elections, these large-dollar contributions are being made exclusively to Republican-aligned political action committees (PACs), which then distribute the cash to state and local candidates up and down the ballot.
This all has some political insiders wondering: If the Kenny family is willing to spend $500,000 during an election where their name isn't even on the ballot, how much will they spend when it is?
TANGLED WEB OF POLITICAL FINANCING
Although only one contribution is directly attributable to Chris Kenny himself—a $100,000 donation to the Responsible Delaware PAC on July 14, 2020—two other contributions can be linked to the Kenny family. On August 19, 2019, Delaware Supermarkets (the umbrella corporation that operates the Kenny Family Shoprites) contributed $45,000 to the K3C PAC, which formed just weeks earlier to support Kent County Republicans. Exactly one year later, on August 19, 2020, the political advocacy group A Better Delaware, over which Kenny presides, contributed $250,000 to A Better Delaware PAC.
So, where is all this cash going?
As was previously reported by The Delaware Call, Chris Kenny's $100,000 contribution to the Responsible Delaware PAC, which lists Republican state senator Colin Bonini as treasurer, is footing the bill for political consulting services. These services include surveys, polling, and field operations—by an Oklahoma-based firm founded by Republican strategist Lance Cargill, who served as speaker of the Oklahoma state House of Representatives until 2008. Responsible Delaware PAC enters the 2020 general election with $88,177 cash on hand.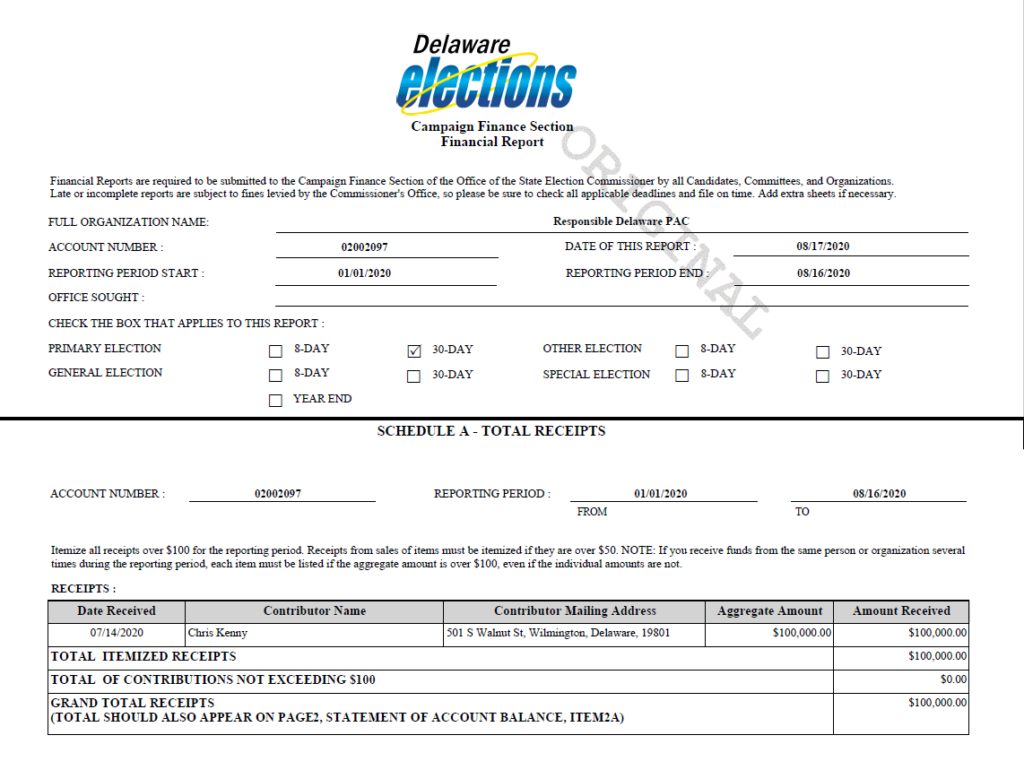 Since receiving the $45,000 contribution from Delaware Supermarkets in 2019, K3C PAC has distributed cash to every member of the state Republican caucus as well as to a slate of candidates challenging Democratic-held seats. K3C PAC enters the 2020 general election with $57,043 cash on hand.
The largest contribution—$250,000 from A Better Delaware to A Better Delaware PAC—came almost entirely from the deep pockets of the Kenny family. Although A Better Delaware was launched as a kind of political partnership between Chris Kenny and Ben DuPont, who are both listed as "Co-Chairman" on the website, the organization is funded almost entirely by Kenny cash.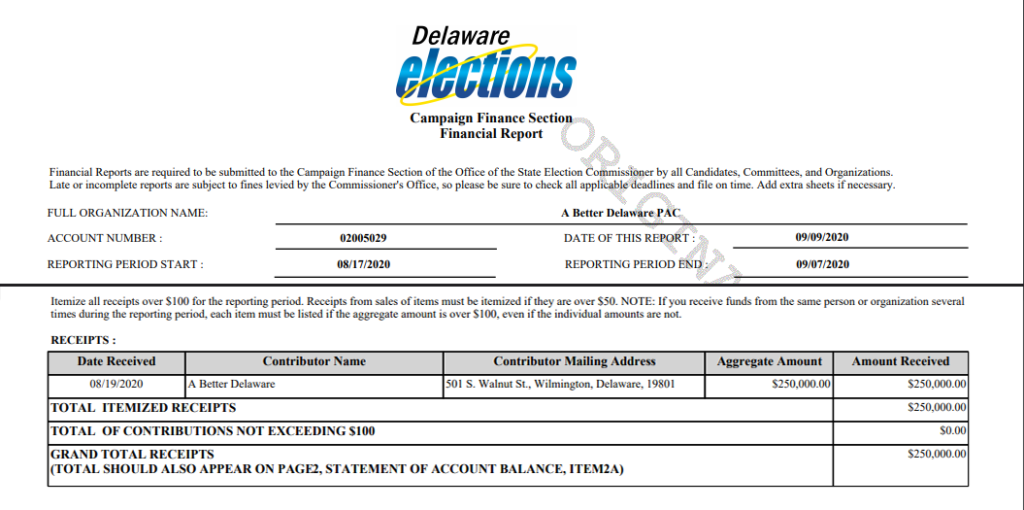 According to tax documents filed with the IRS, in the first six months of 2020, A Better Delaware reported more than $500,000 in contributions from the Kenny family, including $100,000 from patriarch Bernard Kenny, $50,000 from Chris Kenny, and $387,747 from Delaware Supermarkets. Until the next round of campaign finance reporting documents is posted, the organization appears to have $287,747 cash on hand.
A Better Delaware PAC, meanwhile, has transferred more than $100,000 to a third-party advertiser with a similar name, A Better Delaware PAC-IE, which has made 12 payments totaling $51,867 to Spectrum Marketing Co. in Manchester, New Hampshire, and three payments totaling $35,750 to Go Big Media in Alexandria, Virginia. The PAC enters the general election with $189,593 cash on hand.
In other words, in a state where Republicans struggle to compete with the fundraising and campaign operations of the Democratic Party, their next best hope may be piles of cash from a very wealthy family.
POLITICAL BATTLE LOOMS
When asked about Kenny's spending in the 2020 election and beyond, his advocacy group, A Better Delaware, did not respond to multiple requests for comment. However, in previous email correspondence regarding his $100,000 contribution to Colin Bonini's Responsible Delaware PAC, Kenny responded through a spokesperson:
"The direction politicians in Dover are taking concerns me. Their attitudes toward small business, regulations, and taxes and spending have led us down a path that has made the state worse for small business owners and Delawareans alike. As a business owner and a Delawarean, I decided to do something because it is important for people to participate in the political process and create change."
In that same email correspondence, when asked about a potential run for elected office, Kenny responded, "For the foreseeable future, I'm more than busy enough raising a family and running my family business, so my engagement will be through A Better Delaware and not as a candidate."
Despite Kenny's reluctance to confirm or deny his political aspirations, the family's political spending is raising eyebrows among some Democratic strategists.
"Chris Kenny and his cohorts at A Better Delaware are playing the long game, investing heavily in a number of races, but also in a number of platforms to try to sow disinformation and really drive home a conservative agenda of austerity that I don't think is going to be popular with Delawareans," says Jesse Chadderdon, executive director of the Delaware Democratic Party. "While we might not be able to match them dollar-for-dollar, what we can do is out-organize them, out-resource them in terms of volunteers, and run stronger, more bona fide grassroots campaigns."
In contrast to the Delaware Democratic Party, where fundraising is largely driven by individual campaigns, Chadderdon claims the state GOP has come to rely on the Kenny family and a few other wealthy donors to do all the heavy lifting.
"Wealthy donors are going to dump millions of dollars into Republican campaigns and then hold them hostage when it comes to tax austerity and all sorts of other policies that are bad for Delaware," says Chadderdon. "These people want to lower wages and hold working families down. They're terrified of the idea that we want to expand family leave. They're terrified that we might at some point talk about revenue raisers for investing in public education. These guys want to protect their wealth at all costs, and they're going to spend millions to protect their billions."