In what is likely to be one of the largest political contributions of Delaware's 2020 election cycle, Shoprite CEO Chris Kenny has given $100,000 to a political action committee (PAC) that has historically supported the state Republican Party.
The Responsible Delaware PAC, which lists Republican state senator Colin Bonini as treasurer, received Kenny's six-figure contribution on July 14, 2020, according to recently filed campaign finance reports. Over the next four weeks, Responsible Delaware PAC paid tens of thousands of dollars to a GOP political consulting firm based in Oklahoma City for services that are likely to impact elections here in Delaware.
Kenny's largesse on behalf of the Republican Party is certain to fuel further speculation that the heir to one of the state's largest grocery store chains is seriously considering a run for statewide elected office.
BIG MONEY, BIG INFLUENCE
Before Kenny's donation, Responsible Delaware PAC had been dormant for years, neither collecting donations nor making any expenditures since 2016, except for a $35,000 loan from Bonini to the PAC in 2017.
In 2020, Responsible Delaware came back from the dead. The PAC started 2020 with a balance of $36,141.69, which included Bonini's loan, and logged no expenditures. Four days after Kenny's donation, however, the PAC started spending big. On July 18, Responsible Delaware PAC paid $10,000 for "field expenses" and "consulting fees" to HPPC, a political consulting firm based in Oklahoma City and founded by Republican strategist Lance Cargill, who served as speaker of the Oklahoma state House of Representatives until 2008. Campaign finance reports for Responsible Delaware PAC show a second payment of $16,964.15 to HPPC for "survey/polls" on August 8, 2020. In total, Responsible Delaware PAC has spent $26,964.15 on Cargill's consulting services since Kenny's donation.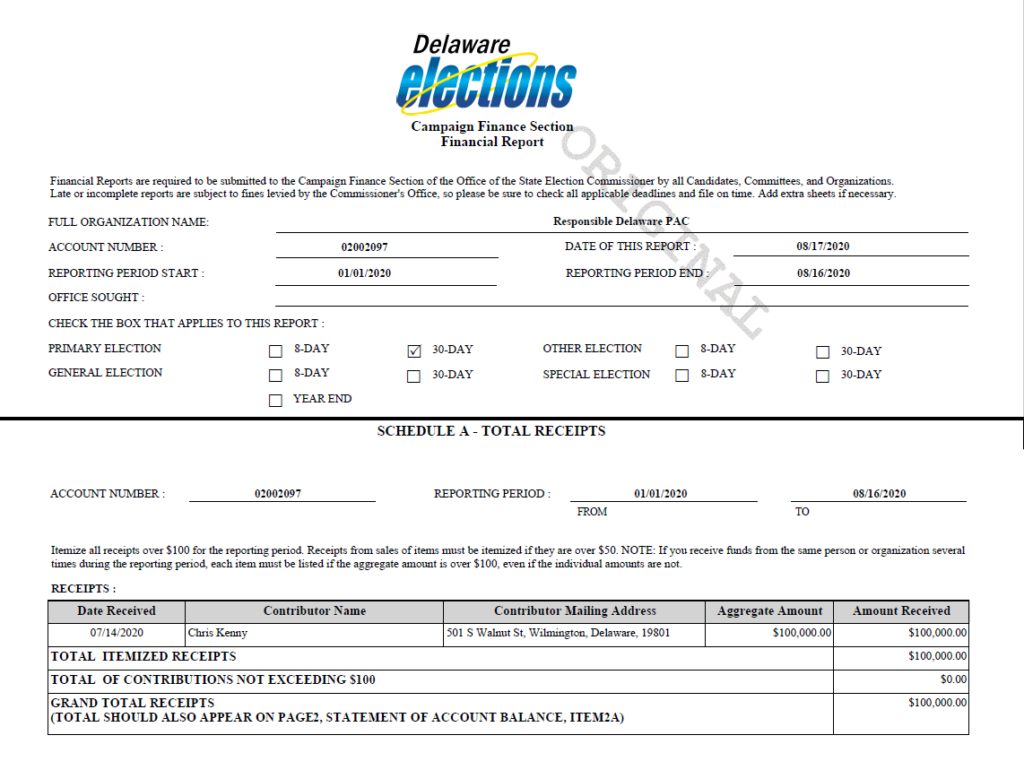 When asked what he hopes to achieve through a large-dollar PAC contribution, Kenny responded via a spokesperson, "As a business owner and a Delawarean, I decided to do something because it is important for people to participate in the political process and create change."
Thanks to Kenny's generosity, Responsible Delaware PAC enters election season with $109,177.54 cash on hand, or about twice as much as was reported by the PAC supporting Democratic lawmakers in the General Assembly.
FUTURE OF DELAWARE'S GOP?
Speculation that Chris Kenny is plotting a campaign for elected office began swirling in early 2019 when Kenny and DuPont Country Club co-owner Ben DuPont launched A Better Delaware, which describes itself as, "a non-partisan public policy and political advocacy organization that supports pro-growth, pro-jobs policies and greater transparency and accountability in state government."
According to the organization's website, A Better Delaware largely promotes a conservative policy agenda, including opposition to raising the minimum wage to $15 per hour, opposition to tax reform that raises rates on individuals making more than $150,000 per year, and support for candidates to disclose certain tax information in order to appear on the general election ballot.
A Better Delaware and The News Journal were the subjects of some minor controversy in the early months of 2020 when the newspaper ran a series of advertisements penned by Kenny's advocacy group but which were very similar in appearance and style to the News Journal's own editorials. This led some members of the Delaware Democratic Party to claim A Better Delaware was attempting to disguise political propaganda as legitimate news.
"Hey @abetterdelaware: considering you're running political ads in our state's largest newspaper/digital news outlet, are you disclosing contributions and spending anywhere?" asked Jonathan Starkey, deputy chief of staff for Governor John Carney, on Twitter on May 23, 2020. "You know very well the information they present isn't factual. All political bs masquerading as the facts. On @delawareonline 's *news* platforms. That's the whole issue!"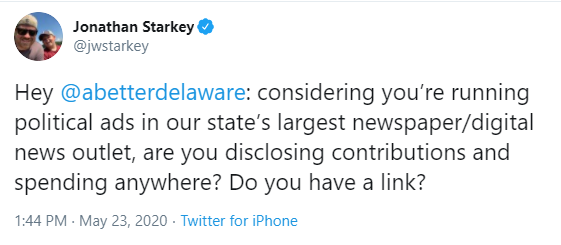 "In every respect, they're a dark money-fueled PAC masquerading as a non-profit to avoid disclosure requirements," replied Jesse Chadderdon, executive director of the Delaware Democratic Party. "They're everything Americans hate about politics: dishonest & funded by secret special interests."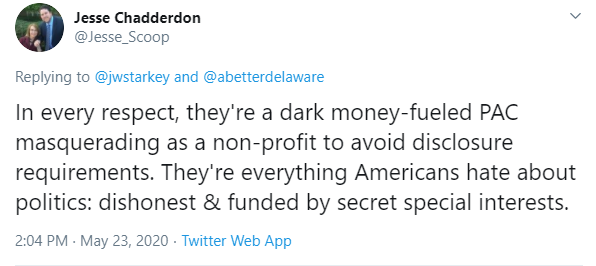 Since the uproar from the Delaware Democratic Party, The News Journal has updated those advertisements to include a disclaimer. Now the header of each article declares, "Members of the editorial and news staff of the USA TODAY Network were not involved in the creation of this content."
"One of A Better Delaware's four pillars is government transparency, which is why we were formed in a manner that made all donations public and readily available online," a spokesperson for A Better Delaware responded via an email request from Delaware Call. "Mr. Starkey and Mr. Chadderdon have full access to this information, as does every curious citizen."
A Better Delaware is organized as a 527 nonprofit political organization, and its financial disclosure forms are available via an IRS web portal.
Speculation over Kenny's political ambitions has only grown since the formation of A Better Delaware in 2019. He launched a sleek personal website in May 2020. Around that same time, Kenny and DuPont launched another venture, Delaware Live, a community news website. Then in June, Kenny purchased the Town Square Delaware website. Delaware Live and Town Square Delaware (now Town Square Live) have since merged into a joint news operation.
"I launched Delaware Live in June in order to provide a new voice in the state," Chris Kenny responded via a spokesperson to Delaware Call. "Part of growing Delaware Live included the acquisition of Town Square Delaware (now Town Square Live) into our network to expand our reach."
Most recently, A Better Delaware has formed a PAC. Its stated intent is, "to help ensure the election of pro-taxpayer, pro-business, good government candidates," according to a press release.
With his name and notoriety; big money to spend on advertising and field operations; an advocacy group backing his policy agenda; and a newsroom that aspires to compete with The News Journal under his control, Kenny is not only poised to become the standard-bearer of the Delaware Republican Party, but he may be the first competitive Republican candidate for statewide office since Mike Castle.