Journalists at The News Journal have won the right to form a union.
According to an announcement posted to Twitter, the Delaware News Guild, which will represent Delaware's largest newsroom of roughly 25 reporters, photographers and digital experts, said their vote to unionize has been certified.
The victory comes after months of negotiations with the newsroom's corporate publisher, Gannett, making the Delaware News Guild the latest of a dozen or so Gannett newsrooms to seek unionization this year alone. In an editorial published last week, this publication called on Gannett to recognize the Delaware News Guild.
"This gives us a seat at the table when it comes to those high-level corporate decisions that will affect our newsroom, which means the company can't change working conditions without coming to the union first," says Natalia Alamdari, education reporter at The News Journal.
Unionization efforts began in March following the mega-merger of Gannett and Gatehouse Media to form the largest newspaper publisher in the country, operating 260 newspapers in 46 states. When the merger was announced in 2019, critics claimed that the deal would lead to worse working conditions and hasten the decline of the newspaper industry.
"Our newsroom, like many others, has endured routine rounds of layoffs and cuts," the guild said in a written statement published on Twitter. "This, combined with growing health care costs, stagnant salaries and constant staff turnover makes it difficult to maintain the high caliber of journalism that we strive for – and that Delawareans deserve."
Over the next five months, Gannett doggedly stonewalled the certification process. The corporation initially fought efforts to allow for mail-in ballots, which were requested by the Delaware News Guild due to the coronavirus pandemic. Gannett then challenged the eligibility of certain employees to vote for and join the union.
"I mean plain and simple, Gannett doesn't like unions," Alamdari said in an interview with WDEL. "Big journalism corporations like Gannett do not want unions. Unions terrify them. It means that they have to put their employees first, they can't do things like make layoffs just to save money that could be cut elsewhere. They can't just cut our health care plan unexpectedly, or cut our 401K plan unexpectedly."
Despite the victory, two newsroom staffers, visual journalist Jenna Miller and digital producer Verna Porter, have not been admitted to the union because of Gannett's objections.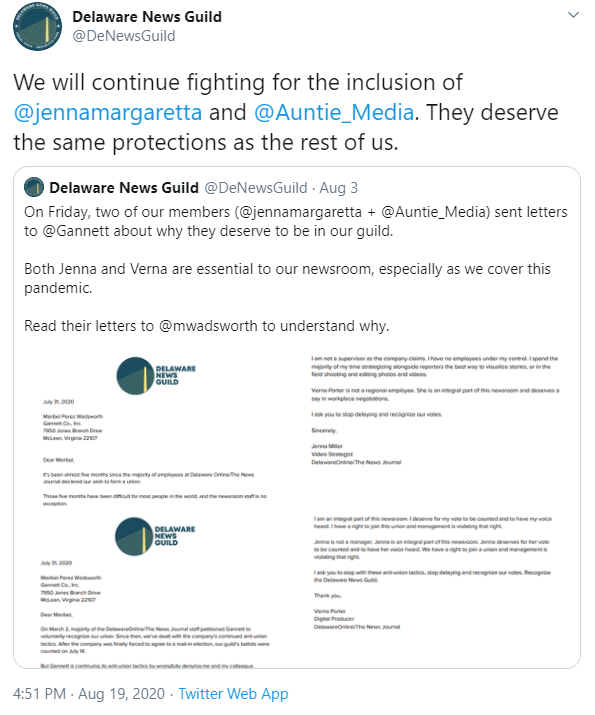 "Both Jenna and Verna are essential to our newsroom, especially as we cover this pandemic," the Delaware News Guild posted to Twitter. "They deserve the same protections as the rest of us."