The Delaware Call team is announcing an exciting fundraising event this fall!
On Saturday, October 7, 2023, we will be hosting a family picnic and 19th century Base Ball match featuring Delaware's own Diamond State Base Ball Club versus a challenging start-up side called the "Working IX" on the grounds of the Center for Creative Arts in Yorklyn, DE. Event is from noon to 5:00 p.m. The match will begin at 1:30 p.m.
Concessions will be available to purchase. Family picnicking is permitted (and encouraged!). Adult tickets are $25 and children under 13 are $10. Plenty of space available for spectators to set up lawn chairs and blankets!
A limited number of passes are available for the BBQ tent at $100 per person. This includes a catered BBQ lunch, beer, white wine and soft drinks.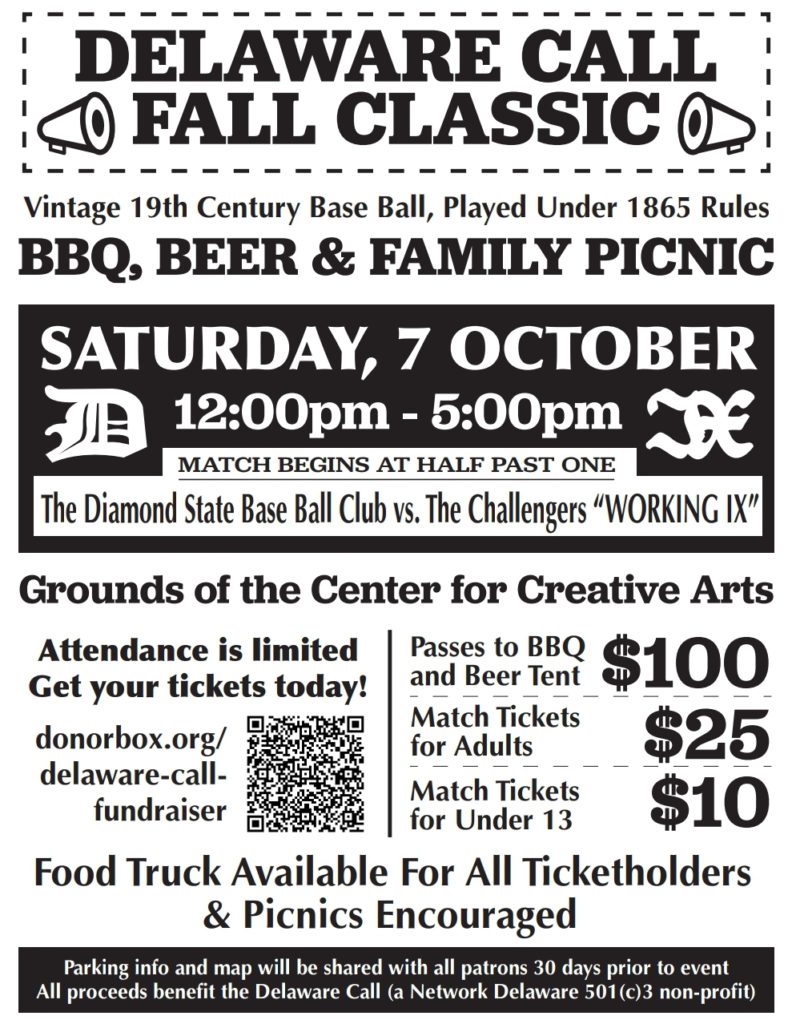 As a very special attraction, a brass band will be on hand to perform mid 19th century pieces both before and after the match.
All ticket holders will be sent a map of the surrounding area including parking availability and access to the CCA grounds. We look forward to seeing you and your family there in October!
To donate for multiple tickets (or make a special sponsorship) you can use the "Other Amount" field at this link and leave comments to explain the breakdown of tickets. Just let us know the number of patrons and we'll handle admission. For instance, $60/2 adults 1 Child or $200/BBQ/Beer Passes.
All proceeds benefit the Delaware Call (a Network Delaware 501(c)3 nonprofit)