My family discovered Bellevue Farms last summer as we searched for farmers' markets in our area. This interview is deeply personal for me. I have benefitted so much from the community connections that Bellevue Farms is creating in the area I live. I hate traveling on weekends now because I don't want to miss their 3rd Fridays parties!
I was able to meet Elisa King in May at the Farms' youth program's Plant Sale, and set up a time to learn more about the work she is doing with Bellevue Farms.
---
Is Bellevue Farms technically under Bellevue Community Center, or in partnership with?
We are a program of the Bellevue Community Center so that Bellevue Farms is housed by Bellevue Community Center, and I am the Director of the program.
So how long has the Farm been around and what was the instigator for starting it?
The initial idea was the Bellevue Community Center wanted to start a community garden. This was prior to me taking the position; about two years prior. So the concept has been around for about seven years. The problem being, they set up this huge community garden – now it's 90 raised beds – and there wasn't anybody to take care of it. But they were utilizing underutilized space. It was an abandoned baseball field; then they turned this into this community garden. But as people gain more experience when it comes to gardening or farming, they quickly realize that you need hands on deck at all times.
So it was about two years in, and I had moved into the neighborhood. I have a degree in agriculture – I mean it's what I want to do, I want to grow food, I want to get it out to people – and I actually went in to volunteer. And then they ended up offering me the job.
Basically it was a neglected community garden, and over the last five years, we have been evolving. So taking it on slowly, piecing things together to grow the program to incorporate more activities, and grow more food, involve more community gardeners, and essentially be able to just reach more of the community.
So let's talk about some of those pieces. For the community gardens specifically, is it that you rent out plots, is it that you maintain a garden for the community, is it both?
Our space is multi-functional. We have about an acre of growing space that we work with. Part of that growing space are fruit trees, so they take up, oh I'd say a fifth of the area at this point. And then we have the community garden area. We have 25 raised plots that are rented out by community members, and they have the entirety of the area to grow food, flowers, and herbs – the things that they want to grow. And in cooperation with everyone else. We don't use any chemical pesticides, and that is something that the community gardeners do.
So we have the community garden side and then we have our production area. Our production area is for our youth education programs, for supplying our seasonal farm stand [Editor's note: the farm stand accepts WIC, Senior Market coupons, and EBT/SNAP], and also going to the kitchen for youth programming. We have been progressively getting more intensive with our growing practices to produce more food each year, and for extended seasons. We added the high tunnel last year to extend our growing season so that we can continue to have access to this fresh food and have the kids be able to be engaged in the process for a longer period of time. So we have these different components of the growing that happens on-site.
Great. Quick question about the location. So the corner that's right next to the Bellevue Community Center, those are the raised beds, and then I think that covered space I've seen with the compost piles and stuff. Where are the fruit trees?
They face Brandywine Boulevard. All of the trees right there that you would walk past when you walk up Brandywine Boulevard are all fruit trees.
Oh, cool!
We're supposed to put more in at some point. Fruit growing is definitely a science in itself, and we're figuring that out, and actually hoping to possibly do an orchard project at another location. But that's, [laughs] that's another thing.
Yeah, in the works [laughs]
You mentioned a couple other programs: you share some of the produce with the kitchens directly, you have your farm stands, and then you have the programs for the kids. So what do those programs look like?
Our youth programming has grown exponentially over the last year and a half. We had started out with just having classes here and there. Now we have a full program where we have out-of-school activities in garden- and nutrition-based education for [ages] pre-k through 12th grade. We are starting as young as we can – well, not totally as young as we can, but as young as we can get the kids out and have any idea what's happening – and then providing some exposure to where food comes from, how to harvest that food and process that food to make it tasty food that's easy for them, that's healthy. So we do those things, but then we also have other opportunities for engagement in STEM related activities, environmental awareness, and also career exposure.
We are looking at what we do as an opportunity to expose youth, in particular youth who don't have a lot of exposure to the food system, and what career opportunities are available. It's not just farming, because there are so many different aspects to our food system, and we need it. We need people to work in these different areas, so we want to expose kids to that. Just to get their thought about what they're going to do, what they see themselves doing, knowing that these opportunities exist.
So that's our youth programming.
We are also home to a 4H Club. That is an international organization that's been around for over a hundred years. We established that 4H Club so that the youth can have access to other activities outside of the community center. And 4H offers a wide variety that's involved with agriculture, and it also can be natural sciences and animal science and so on. So the kids who are involved in our 4H Club can participate in those things.
Then with our teens we have partnered with Junior Achievement to offer an entrepreneurial experience for them. The teens help us grow some of the crops on-site. Then they use some of those crops to create a product, and process it, and turn that into something they can sell. They get this customer service and financial literacy experience that they may not have otherwise gotten.
Yeah, yeah! I met you initially at the Plant Sale. So do the kids pay costs, so to speak, to Bellevue Community Center and then keep the profits? Or how does that work for them?
When they sell, basically they're learning what those costs are and how that needs to be covered before they can just dish out the money that has come in, and they get an understanding of how to manage that better and how to manage that for themselves and this business, and how they can do it working together.
They are still in the process of figuring out how they want to compensate themselves, and we're really trying to encourage them to make this decision collectively, so that everybody's on the same page. And it gets them thinking, and using their mind themselves, so they get a little out of their comfort zone and get more comfortable when they're in a setting that doesn't have adults supervising them.
So it's a collaborative then! It's not like, each kid is individually growing their plants. They're doing this together, and they're working together to figure out how the sharing pans out.
Yes, they've worked together from the very beginning brainstorming process, which started at the end of the market season last year. They've been working together through each of these steps. They worked together on creating the product, putting the marketing materials together, and now doing the pop-ups and getting the product made and selling it. They're all working together to do that.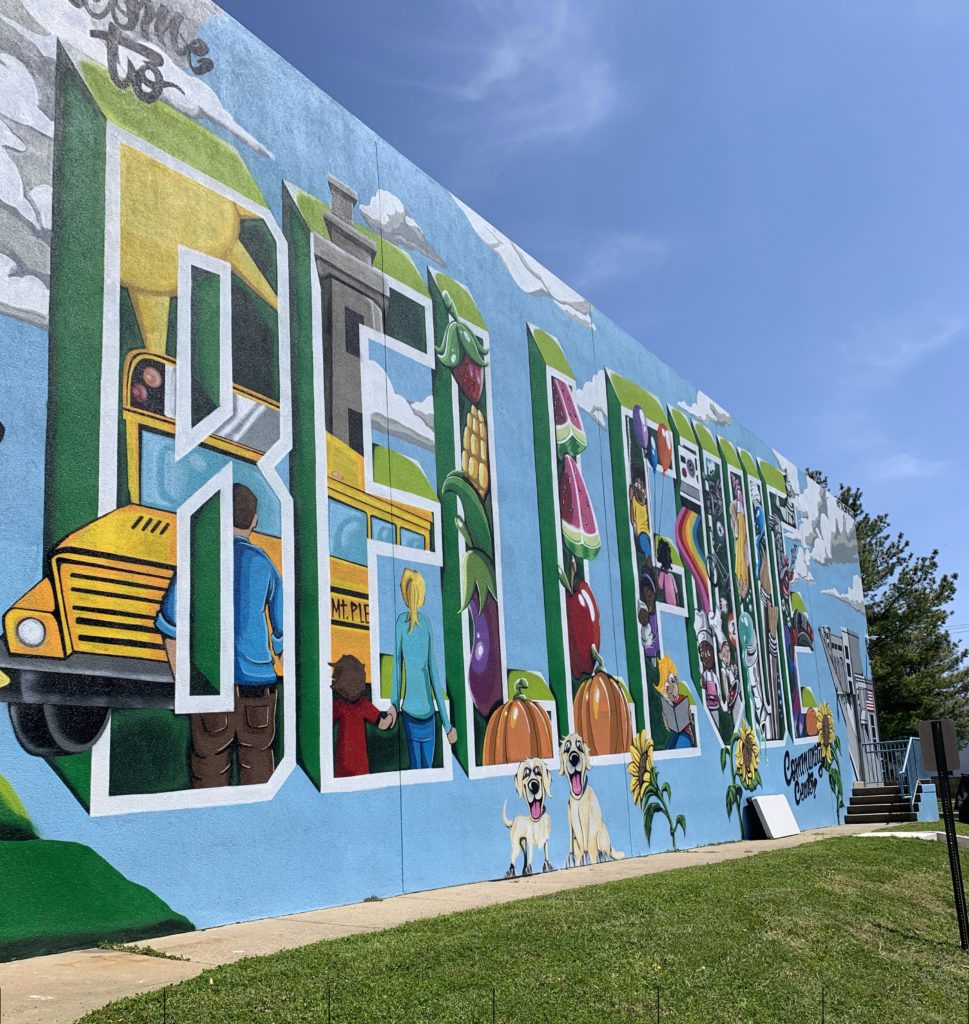 That's awesome. For the food that you share with the kitchens that are under the Bellevue Community Center, are you connected with the work the kitchens are doing or is it more of a "supplying produce" relationship?
It's more of a supply. The kitchen has to operate in a very efficient way because they're very busy. But what we do is we try to make it as easy as possible for them by letting them know what we're going to have available so that they can plan ahead. They will make a menu weeks in advance, so we can even take a look at that menu and say, "Hey we're gonna have this lettuce this week, do you want this on Thursday for that salad?" So, getting the fresh food in there and into the bellies of the kids. That's the main point.
What are some ways that people in the surrounding community of Bellevue, and even outside the community, can best support the work you all are doing? I know you have the summertime Friday afternoon farmers markets with the farm stand there and a few other vendors as well. Are there other ways of engaging? Are there people you're looking for in terms of more expertise that you need, to come and share with your growing?
I will say that I'm very proud of what we've been able to accomplish over the last five years, because there has been a natural congregation of diversity that has happened with what we've been doing. And that was the goal. The goal was to create this social aspect to connecting with our food system that would make people feel included to be part of it. And I really see that evolving.
So I just think that – just show up. I will say this first: everybody needs to put their money where their mouth is, literally. But at the same time, just showing up makes a huge difference too, because people are attracted to where people go. Especially when you try to reach out to diversity in the community and let people know that everybody is welcome, and we welcome different perspectives, because that really makes our program better when we have a wide range of perspectives. When people see people that they feel they can relate to, then more people come. So just come and be a part of it in what way you can.
Friday night markets are a great opportunity, especially the 3rd Fridays because that's the big party night of the month. And that starts in June and it goes through October, but the Market is open now from 3-7 on Fridays.
We also have various opportunities to engage the community. We did have our annual Seed Swap which is our first event of the season, and this was the busiest one we've ever had, so we encourage anybody in the community to participate in that. Especially with donating seed, because the more people come that want to exchange seed, the more seed is needed. When people have extra seed, we have our seed library that is located right in the garden, and anybody can access it at any time. So if somebody has seeds that they would like to drop off they can drop it off there, just have it labeled and that's what we ask for.
And then we also have our CSA [Community Supported Agriculture]. If people are unfamiliar with CSA, it's a membership where you pay up front to then partake in the harvest of the farm's season. We have a 20 week CSA available. It's pretty limited on the number of CSA memberships that we have, but we also supplement from other local farms. So we give a really nice variety in our shares, and make sure we have some local fruit in there, which is hard to come by. That's one way that people can participate and also reap the benefit of local food.
I think we discovered the farmers markets last year, and we love coming out every Friday, it's a good time.
Thank you, I really appreciate you reaching out. Any publicity that we can get is good. And yeah, I just want to do whatever we can to keep connecting with other parts of this local food system, and keep it growing and getting strong. Because we need it. We need our food system to be more resilient so our communities can be more resilient and less reliant on outside sources.
Yeah. The interviews in this series are kind of selfish for myself because there are a lot of things to be worried about and stressed about and anxious about, and a lot of unknowns in the future, and the thing I keep coming back to is: well, if we learn how to take care of each other, together, that's what we can do. And then we'll have each others' backs. And food is the big thing, right? We gotta eat!
Everybody. I totally am with you, and definitely appreciate that sentiment.
Alright, well, thank you so much!
---
Upcoming Events
Welcome Summer Fest – Friday, June 17, 3 – 7pm

Music by Dickens & Ballsworth
Wilmington Brew Works and Clifton Liquors
Free Moon Bounce and face paint for kids
Farm fresh produce, bakery items, honey, jams, prepared foods, handmade items, and more!
PAYMENT: All methods of payment are accepted including cash, debit/credit cards, and EBT.

Bellevue Farm Cart – Thursdays, 10am – 5pm
3rd Fridays – 3rd friday of the month, 3 – 7pm, June – October

Live music, free kids activities, craft brewers, local businesses, food trucks, and farm fresh produce
PAYMENT: All methods of payment are accepted including cash, debit/credit cards, and EBT.
Get Involved
Email Bellevue Farms about becoming a vendor at the Friday Farmers MarketsFollow Bellevue Farms on Facebook and Instagram