Just hours after supporters of cannabis legalization rallied at Legislative Hall in Dover on Tuesday, state legislators failed to override Gov. John Carney's veto of House Bill 371, which would have removed all penalties for possession of one ounce or less of marijuana for those 21 and over. Possession of more than one ounce of marijuana and public consumption would have remained unclassified misdemeanors.
Although HB 371 passed the House with a veto-proof three-fifths majority in May, four Democrats — Reps. Andria Bennet, William Carson, Sean Matthews, and Majority Leader Valerie Longhurst — changed their votes, effectively killing the veto override attempt led by Rep. Ed Osienski.
Prior to the vote, outside of Legislative Hall, supporters of HB 371 called on legislators to back the veto-override measure.
"This is our last shot until 2025. Lives are being ruined from the over-policing of black and brown communities," said Meriah Peacock, a Seaford resident, veteran, and small business owner who spoke at the rally. "It's time for the legislature to work for all Delawareans and override this veto."
The day before the rally, New Castle County Executive Matt Meyer published an op-ed in The News Journal, calling on legislators "to legalize and tax marijuana."
Speaking with Delaware Call at the rally, Meyer doubled-down.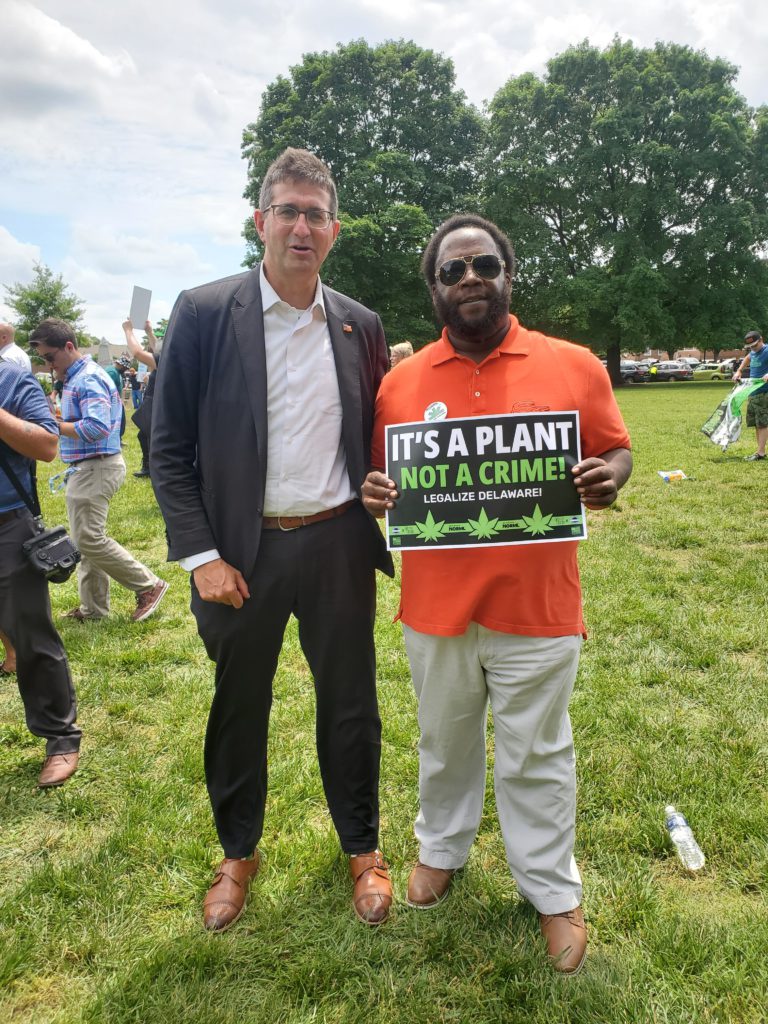 "The war on drugs is a failed policy. Prohibition does not work, and the enforcement in Delaware is unequal," Meyer said, pointing to statistics from the ACLU statistics showing four times as many Black Delawareans are arrested for marijuana possession as white delawareans. "Those who do not have resources, the poorest in society, those who are not white, those who did not grow up in money are often the most victimized by marijuana laws, and those are often the hardest laws to change."
Meyer also pointed to the economic incentives of cannabis legalization, which include additional tax revenue that can be used to fund schools (as in Colorado), health insurance for low-income families (Washington), mental health and drug treatment (Oregon), and re-entry programs for formerly incarcerated (Alaska): "We can do that here in Delaware but first we need to legalize and regulate."
"Hey Hey, Ho Ho. Racist Searches got to go," chanted the diverse crowd of legal cannabis activists, which included veterans and senior citizens. One protester carried a sign reading, "Mommy wants a joint should be as acceptable as Mommy needs a glass of wine!!!"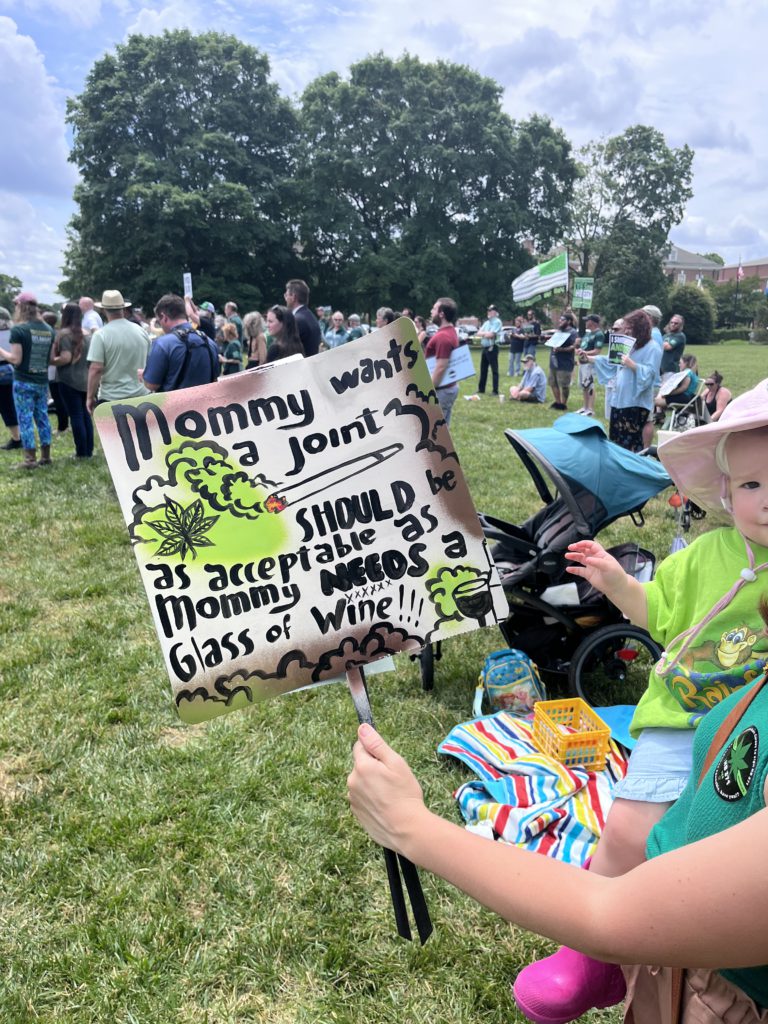 According to a survey by the University of Delaware's Center for Political Communication, over three-fifths (61%) of Delawareans support marijuana legalization.
"I have been working since 2013 to legalize marijuana in this state, and the reluctance is ridiculous," said Cynthia Ferguson, a New Castle County resident and member of Delaware NORML. "One person specifically, Pete Schwartzkopf, the speaker of the house, votes with his buddies, the cops, and not his constituents."