The United States Senate voted to reject a proposal sponsored by Sen. Bernie Sanders to raise the federal minimum wage to $15 per hour. Both Delaware's senators, Tom Carper and Chris Coons, joined the GOP and other moderate Democrats to kill the measure, and the progressive backlash was swift.
"A $15 minimum wage was already a compromise. Now some Democrats are blocking it," Rep. Cori Bush posted to Twitter. "We have the House, Senate, and White House. Blocking more help for people is unjustifiable."
Despite widespread popularity, raising the minimum wage to $15 per hour has proven to be one of the most divisive issues confronting Democrats in the early months of the Biden Administration. Democrats had hoped to include a $15 minimum wage proposal in the $1.9 trillion COVID-19 relief bill, which also includes $1,400 stimulus checks and extended unemployment benefits, which Senate Republicans vowed to filibuster. In order to stymie GOP resistance, Senate Democrats opted to pass the bill through budget reconciliation, a legislative process that limits what can be included in a bill but requires only a simple majority vote for passage.
In the final week of February, however, the Senate parliamentarian ruled the $15 minimum wage proposal could not be included in the final bill because it did not meet the arcane guidelines for the budget reconciliation process. Despite pressure from progressive Democrats to overturn the parliamentarian's decision, the Biden Administration said it would respect the ruling.
Maryland delegate Mary Lehman, a progressive Democrat, urged the Biden Administration to reconsider. "As VP, Harris is the Presiding Officer of the Senate. As such, she can overrule the parliamentarian. Biden can't do it, but he can instruct Harris to do it…The parliamentarian is only an adviser."
Editor and columnist David Siorta, who served as senior advisor and speechwriter on the 2020 presidential campaign of Sen. Sanders, put it more bluntly. "Biden campaigned for president depicting himself as a master of the Senate—now he's pretending he has no power to mildly pressure lawmakers in his own party to support the $15 min wage he promised. He is not powerless. He's refusing to use his power."
Raising the minimum wage to $15 has become a rallying cry for Democratic voters in recent years, especially in Delaware. Carper had long opposed raising the minimum wage beyond $10 per hour, but relented during the 2018 midterms when his primary challenger, Air Force veteran Kerri Evelyn Harris, embraced the same platform of progressive policies that had helped Rep. Alexandria Ocasio-Cortez oust the fourth-highest ranking Democrat in the House of Representatives. With hopes of avoiding that fate, Sen. Carper announced his support for raising the minimum wage to $15 per hour. 
In a campaign email dated September 3, 2018, Carper said, "We need better wages—that's why I support raising the minimum wage to $15 per hour over time."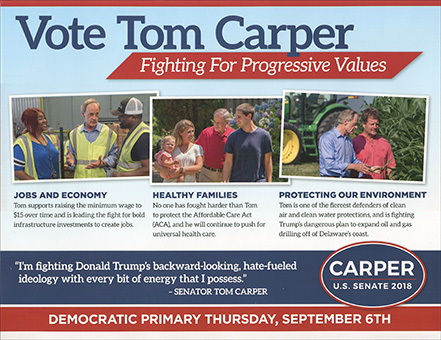 Carper's campaign also sent out a direct mail advertisement that read, "Tom supports raising the minimum wage to $15 over time."
His promise to support raising the minimum wage to $15 an hour extended into the general election. In a campaign email dated November 6, 2018 and containing the subject line, "Why I decided to run this year," Carper said, "We need to raise the minimum wage to $15 over time."
In a statement released after the Senate vote, Carper explained, "I have backed a $15 minimum wage on the federal level for years. At a time when our economy is still slowly recovering, though, policymakers have a responsibility to be especially mindful of the fragile state of small businesses all across this country – many of which are fighting just to stay open during this unprecedented crisis."
Unlike Carper, Coons has never supported raising the minimum wage to $15 per hour. During a town hall meeting in 2020, when Coons was facing primary challenger Jessica Scarane, he said, "I've got people coming at me from my own party saying, 'Why aren't you endorsing $15 minimum wage nationally?' Because I think there are places in the country where that's too high."
According to a report by the National Low Income Housing Coalition, a full-time worker making the federal minimum wage cannot afford a two-bedroom rental anywhere in the U.S. 
"I'm rarely surprised, but consistently disappointed by our Senators voting against the working class," Scarane commented to Delaware Call. "A third of people who work in Delaware make less than $15 an hour. The Senators can make all the excuses they want about how the timing is wrong or how $15 is too high for people living in places like Seaford, as Senator Coons has said. Today, they told a third of the working people in our state they don't deserve wages they can survive on."
After voting to kill Sanders' proposal to raise the minimum wage to $15 per hour, Coons said, "Every Democrat and many Republicans agree that the federal minimum wage of $7.25 is too low and has been for too long. It has to be raised. President Biden has called for us to raise it to $15 an hour. I will work with my colleagues on legislation to raise the minimum wage and index it annually."