Of the 136 political action committees (PACs) active in Delaware, the New Castle County Chamber of Commerce PAC stands apart as the only which has not revealed the identity of a single donor over the past ten years, according to a review of campaign finance reports and financial disclosure documents obtained by the Delaware Call. At least twice, the PAC has failed to properly disclose thousands of dollars in contributions from corporate donors.
The PAC, which first registered with the Delaware Department of Elections in 1988, raises funds to support candidates running for elected office who will go on to support the chamber politically by pursuing a pro-business policy agenda.
Considering its history of fines and violations for failure to file campaign finance reports—in some cases, many weeks or months after the filing deadline—the PAC's conduct calls into question the Department of Elections monitoring of election spending.
"The Delaware Department of Elections simply does not have the manpower to enforce the rules," says John Flaherty, board director of the Delaware Coalition for Open Government, a nonprofit advocacy group committed to promoting and defending the right to transparency and accountability in government. Flaherty notes that the campaign finance division of the Department of Elections has just two full-time staff to process financial disclosure documents from more than one thousand candidates, political action committees, and third-party advertisers.
State Election Commissioner Anthony J. Albence, who oversees the Department of Elections, did not return numerous email and voice mail requests for comment.
LACK OF DISCLOSURE
So, how has the New Castle County Chamber of Commerce PAC avoided disclosing information about the source of its funds?
Despite detailed disclosure requirements for candidates and PACs (including disclosing donor names, addresses, and amounts and dates of contributions), a little-known legal loophole, designed to ease reporting requirements for small donors, allows personal information to be kept secret so long as the total contribution of any single donor does not exceed $100. Because there are currently no rules requiring disclosure of date and source of incoming receipts (such as a fundraiser or member dues), all small-dollar contributions for an entire reporting period may be lumped together into a single line item.
When coupled with the lack of oversight, the small donor exemption practically invites abuse, which is what the PAC appears to have done—repeatedly. Since 2010, the PAC has received $101,789.05 in contributions without disclosing the identity of a single donor. According to the PAC's 2017 annual campaign finance report, a single line item totaling $9,120 in receipts is noted as "contributions not exceeding $100." However, financial disclosures published by J.P. Morgan Chase & Co. for that same year show a donation of $1,500 to the "NCC Chamber of Commerce PAC." In a separate filing that same year with the Department of Elections, the PAC documents 11 "contributions not exceeding $100," including a receipt for $1,500 on October 25, 2017.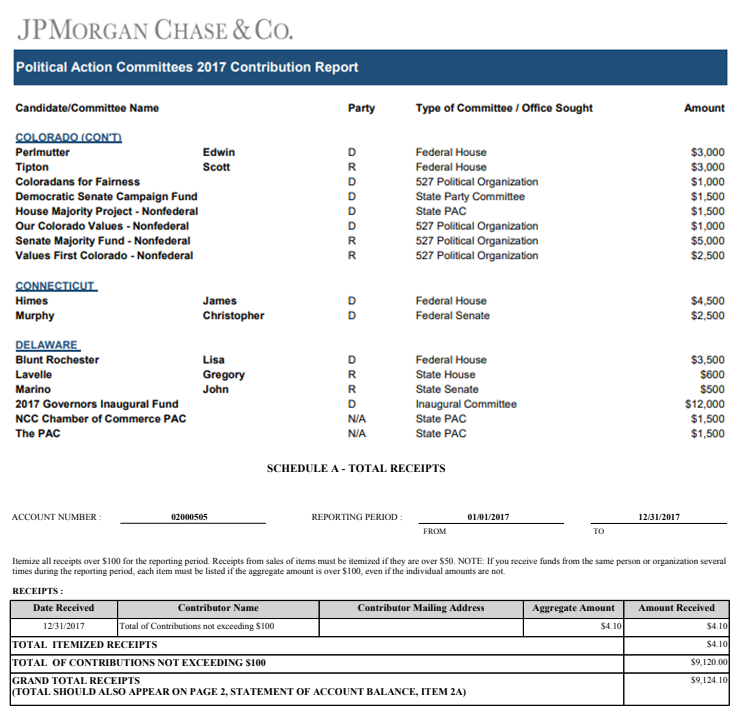 Likewise, financial disclosures by AT&T from 2012 document a $500 contribution to the New Castle County Chamber of Commerce PAC; however, none of the PAC's campaign finance reports filed during that election cycle note this.

Numerous attempts to contact the New Castle County Chamber of Commerce, including PAC treasurer Joseph F. Fitzgerald Jr., were unsuccessful until after initial publication of the article, when the chamber replied, "The omission of AT&T's $500 contribution and J.P. Morgan $1,500 contribution were due to clerical and accounting errors. Thank you for bringing them to our attention. The pertinent campaign finance reports for 2012 and 2017 have been amended to correct the oversight."
The PAC's campaign finance reports have since been updated.
State law currently requires that information regarding all incoming receipts—including "contributions not exceeding $100"—be kept on hand for up to five years in case of a financial audit. Although many candidates and PACs painstakingly itemize donor receipts, including those under $100, many do not, and this disclosure exemption for small donors opens the door for abuse, according to open-government activists.
"The New Castle County Chamber of Commerce is cheating, fair and square," says Flaherty, riffing on a famous quote by the baseball legend Yogi Berra. "There should be full and complete disclosure. There's no public interest in keeping everything secret. I don't blame the PACs. I blame the Department of Elections for not creating an environment where PACs are fearful of being prosecuted."
PATTERN OF FINES
The NCC Chamber of Commerce PAC has also accumulated numerous fines for ignoring state filing deadlines for campaign finance reports. Since 2014, the PAC has received 13 "failure to file" violations totaling $19,350. Multiple violation letters have been returned and marked "undeliverable" and "unable to forward," likely because the New Castle County Chamber of Commerce has even failed to update its own address on the Department of Elections website. The address listed is 12 Penns Way, but the chamber relocated to 920 Justison Street on the Wilmington Riverfront in 2017.
Despite $4,400 in fines outstanding dating back to 2013, the PAC is still in good standing and allowed to make contributions to political candidates. In response to inquiries from the Delaware Call, the chamber responded, "The full outstanding balance has been paid personally by Treasurer Joe Fitzgerald."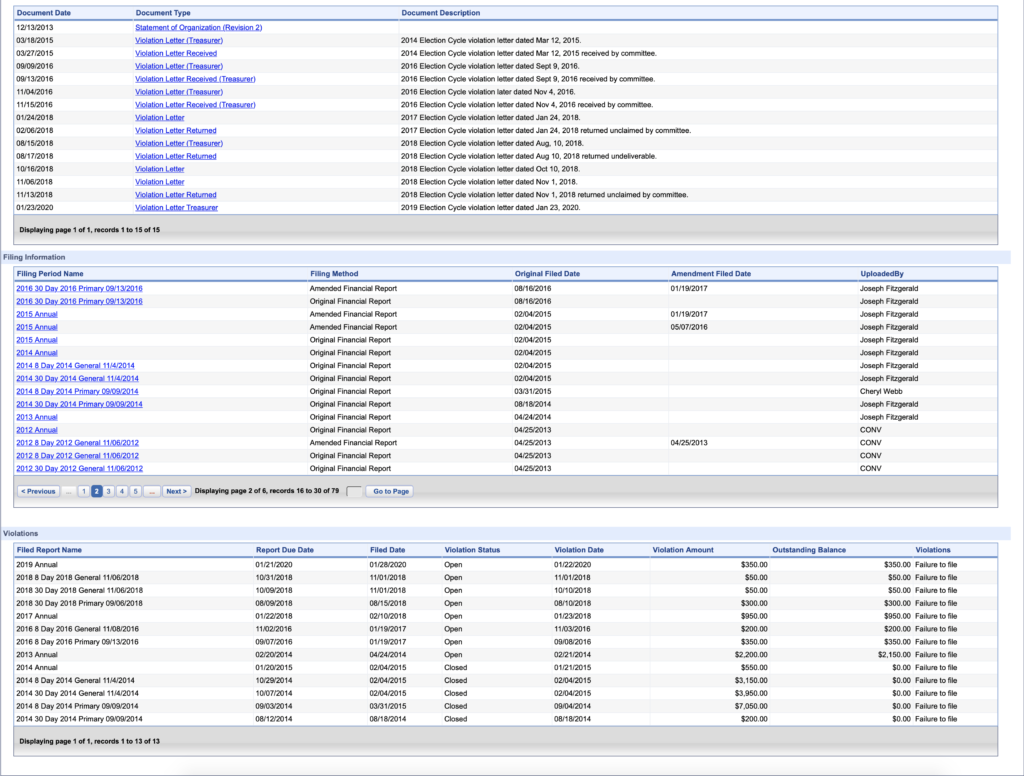 (Update: The payment has since been processed by the Department of Elections.)
"Why should a PAC be allowed to collect and distribute campaign cash when they have unpaid fines and violations going back to 2013? They should not be allowed to operate," says Flaherty. "The state of Delaware should be enforcing campaign finance laws. If the chamber of commerce in the state's largest county can get away with not having to pay fines, then others are going to take advantage."
DELAWARE CALL IS ENGAGED IN A COMPREHENSIVE EFFORT TO EXAMINE THE SPENDING AND FUNDRAISING OF POLITICAL ACTION COMMITTEES IN DELAWARE.

IF YOU HAVE ANY INFORMATION TO SHARE, PLEASE EMAIL THE DELAWARE CALL AT [email protected].

IF YOU ARE A PRIVATE CITIZEN CONCERNED ABOUT DARK MONEY INFLUENCING DELAWARE'S ELECTIONS, THEN HELP US TELL THIS STORY BY MAKING A CONTRIBUTION TODAY.